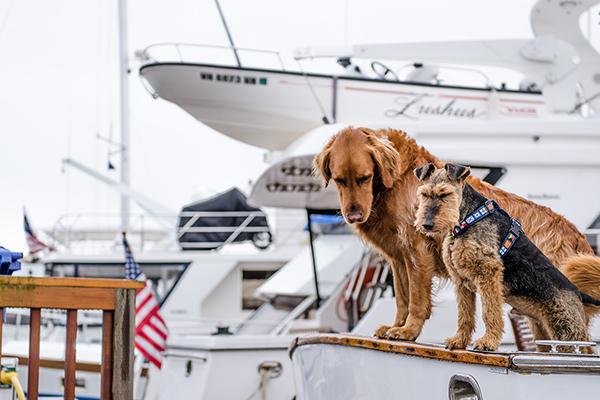 In a nutshell, these are the rules for ferry travel with pets:

Make sure your pet has a valid Pet Passport or a certificate of good health indicating that the pet is healthy enough for travel, is free of diseases communicable to humans and has been properly vaccinated. If the certificate shows an abnormality, your pet may not be allowed to travel. Always have these documents at hand!
Depending on the company, the type of boat and voyage, your pet has to remain in your vehicle during the entire trip, or travel in dedicated on-deck carriers or in the loading areas. In some cases your pet can travel with you, e.g. guide dogs.
At the discretion of the crew and conditions permitting, owners may visit their pet on the car deck at pre-arranged times during the course of the voyage..
Usually, you cannot make ticket reservations for pets on-line, but need to phone the ferry company directly.
The fee depends on the company and the owner has to provide enough food and water supply during the trip. Guide dogs usually travel for free.
Dogs traveling in the hold, both when boarding and disembarking have to be on a leash and muzzled. All other pets must travel in a crate.