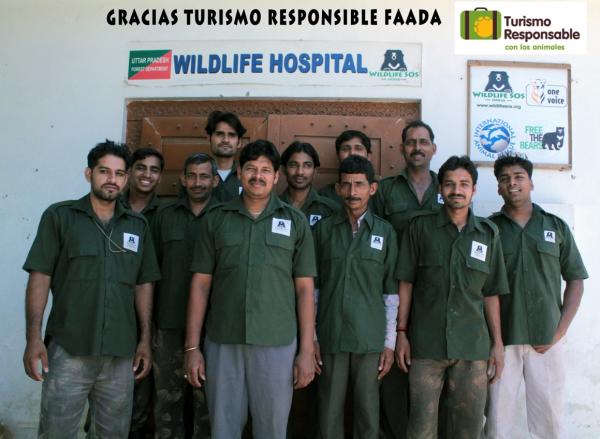 RESPONSIBLE TOURISM WITH ANIMALS IS POSITIVE FOR LOCAL COMUNITIES

The lack of commitment to animal care in the tourism sector can have severe consequences: not only for the animals that are involved, but also for the industry itself.

Many of the animals that are used in tourist activities are in danger of extinction, or will soon be, if they keep exploiting them (ex. the Asian elephants) and it is necessary to ask oneself what will happen when they disappear. Not only the travelers and companies will lose; the local communities which have survived by using these species will have condemned not only the animals but also their business, to a short term survival.

When considering local communities, it is important to remember that respect for animals gives an impression of seriousness and compassion, which is a very important value in tourism. Due to the increase of animal protection awareness, tourists will choose the agent that has the best interest in animal care. As a consequence, taking good care of animals guarantees the survival of having their business over a long period.

We can't forget that most of the interactions with wild animals are potentially dangerous and that many accidents and attacks, even mortal ones for people, are registered yearly around the world.

The tourism sector can be seriously damaged as these problems are more and more publicized and tourists are increasingly aware. People around the world avoid visiting places which are known for cruelty to animals and recommend others no to visit them. This negative press can be very detrimental.

We can't be surprised that over the last several years agencies and tour operators have received complaints from people that have witnessed acts of cruelty towards animals in their travels. As a result encouraging respectful tourism towards animals offers an added value to these copmanies.
Finally, it is important to remember that alternatives do exist, and if all the parts implicated in the tourism industry decide to cooperate, then it will be possible to offer activities with wildlife that can give the opportunity to see the animals in a more ethical and responsible way. That way we can preserve our environmental heritage for future generations.
There are many examples of previously harmful activities have been successfully refocused:
*The Kalandars tribe in India had been offering shows with dancing bears. In 2002, Wildlife SOS began a process to offer education to this community in order to help the women gain jobs (enabling another family salary) in exchange for surrendering their bears. The members of the tribe signed a contract that said that they would never purchase a bear again and many have obtained jobs in the bear rescue sanctuary.
*The Funzel foundation in El Salvador, that works to preserve marine turtles, most importantly by protecting the turtle eggs from theft, employed the poachers themselves as members of a project to protect the nests and as ecotourism guides.
*The majority of centers that rescue animals and conservation projects offer jobs and a worthy salary to the locals.
*In the natural park of Chitwan, Nepal, it is traditional to cross the river on top of an elephant to access the park. TUI Holland agency, decided to transport their clients in canoes (informing of all the problems that imply riding an elephant) and thereby encouraging the rental of boats.
It is important to make the local communities aware of the value of their natural surroundings, and the need to protect it. Not only for the conservation but also for the economic support that they depend on.