Responsible Travel - EE.UU - THE SHAMBALA PRESERVE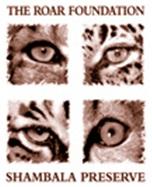 The Shambala Preserve es un santuario para los felinos que vivían como mascotas domésticas o que provienen y han sido rescatados de circos y zoológicos. Uno de los objetvios principales del centro, además de ofrecer una mejor calidad de vida para estos felinos, es la de educar y concienciar a la sociedad. Por esta razón, un fin de semana al mes, The Shambala Preserve abre sus puertas ofreciendo distintos tipos de visitas para colegios, para los "padres adoptivos" o para aquellos curiosos que quieran conocer el día a día del centro.
Shambala es el hogar de más de 40 grandes felinos y su único propósito es el de permitir que estos animales vivan sus vidas con amor y dignidad. El centro cuenta con todas las instalaciones necesarias para el cuidado diario de los felinos y los animales reciben todas las atenciones médicas y emocionales posibles.
Para más información sobre las visitas al centro, consulte esta página: shambala.org
↑ Up